What are vocal cord nodules?
Vocal cord nodules or vocal fold nodules are mostly bilaterally occurring fibrotic edematous tissue masses localized in the mid-third of the vocal folds. Small, recently emergent vocal cord nodules contain flat, glassy, soft mucosal protrusions that usually lie directly contralateral to one another.
Larger vocal fold nodules can exhibit mucosal protrusions with tips touching each other or will fit together like a cone in a crater.
In more advanced stages, firm cornified caps form on the surface of the hardened nodules. In patients with vocal fold nodules, both the vocal fold surface as well as the underlying superficial portions of the lamina propria are edematous and fibrotic. The lamina propria is a soft tissue layer responsible for the delicate rolling of the vocal folds' mucous membrane and is what helps produce the tonal beauty of the human voice. Changes in this region usually result in a more or less pronounced level of hoarseness.
Moreover, medium-sized and larger manifestations of vocal cord nodules will impair vocal fold closure.
Larger vocal cord nodules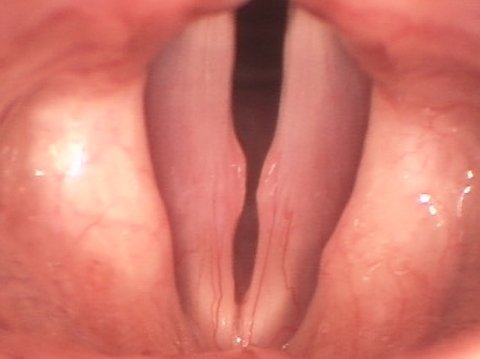 How do vocal cord nodules develop?
Vocal cord nodules or voice nodules are typically associated with voice overuse or misuse. The patient's medical history usually reveals evidence of continually speaking too long or too loudly.
In some families, everybody basically speaks at a much louder volume, for example, if one of the family members is hard of hearing or if their sociocultural background is accompanied by an extroverted use of the voice.
Frequently, voice overuse or misuse of the singing voice can be established as well. These cases are referred to as singer's nodules.
Smaller-sized vocal cord nodules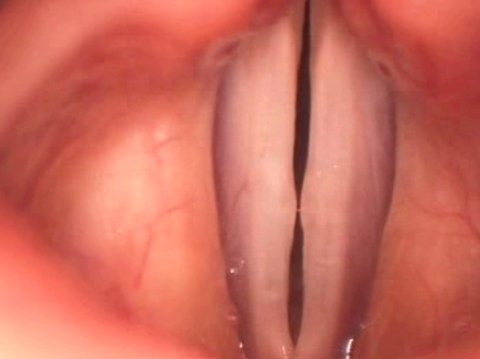 What symptoms are caused by vocal cord nodules?
Hoarse, rough voice
Rapid vocal fatigue
Impairment of the singing voice
Patients with vocal cord nodules almost always exhibit a more or less pronounced level of hoarseness. The degree of hoarseness is usually proportionate to the size of nodular findings.
Interestingly, women are primarily affected by conditions involving vocal cord nodules; these are often teachers, call-center agents and even mothers who overexert their voices when feeling compelled to shout at their children.
Occasionally, vocal cord nodules will develop in female singing students and young female singers during their training. Such patients are often unable to appropriately balance the demands of a singer's profession against the requirements of healthy voice care.
Indeed, vocal cord nodules can also occur in children, usually aged five years and older. Here, boys tend to be afflicted more frequently than girls.

What treatment options are available?
Highly qualified voice therapy
Pharmacotherapy
Surgical intervention
In the early stages of vocal fold nodules, most symptoms can be satisfactorily eliminated by conservative treatment measures. This mainly involves voice therapy with a highly qualified therapist (see the section Voice Therapy of the Speaking Voice), voice rest and/or voice rest along with anti-inflammatory medication.
Most vocal cord nodules that receive early treatment can be completely eradicated by these forms of therapy.
In the larger and hardened forms of vocal cord nodules, vocal cord surgery usually cannot be avoided.
The surgical intervention is described in detail in the section Voice Surgery of Vocal Cord Nodules.
Example: Phonosurgical management for vocal cord nodules
Vocal cord nodules before surgery
Vocal cord nodules after surgery

Truths and Myths About Vocal Cord Nodules
It is a widespread myth that vocal fold nodules recur after vocal cord surgery. Patients frequently say: "I have nodules on my vocal cords. They were operated on twice and come back every time." The voice doctor might draw the wrong conclusions from these statements by attributing the recurrence of the vocal nodules to unsuccessful surgery.
Here, the reason is rather due to the fact that the patient did not undergo long-term voice therapy. The secret to permanently good outcomes after the diagnosis of vocal cord nodules lies in a qualified treatment regimen of voice exercise that trains the patients to dehabituate the excessive pressure patterns they had developed during phonation due to the nodules.
Once this therapy has succeeded in training the patient to practice using a smoother, more supple voice, it will prevent such nodules from developing on the vocal folds.

Case Report: Vocal Cord Nodules
A 24-year-old female call-center agent presented with pronounced hoarseness. She reported that her voice was hoarse, but breathy at the same time and suffered vocal fatigue quickly. She only managed to get through her eight-hour workday on the telephone with great effort. The woman was a non-smoker and reported no other diseases during the initial consultation.
The videostroboscopic examination by the ENT specialist revealed medium-sized vocal cord nodules, equal in size and shape, localized in the mid-third of her two vocal folds. Both nodules had advanced to the stage where they exhibited a pale whitish, cornified cap that caused considerable limitation to the delicate rolling movements of the vocal fold mucosa. Vocal fold closure was impaired.
The woman was put on intensified voice therapy and prescribed anti-inflammatory medication.
In spite of great commitment on the part of both patient and therapist, no major improvement in the size of the vocal fold nodules was noticeable after six weeks' treatment. Her voice continued to be hoarse and breathy, her vocal fold closure still incomplete.
The patient decided to undergo a phonosurgical intervention that was performed eight weeks after initial diagnosis. During the single-session procedure, both vocal folds were treated by Dr. Wohlt's method of plastic reconstruction. The patient was recommended to maintain a 10-day period of vocal rest. The postoperative follow-up after ten days showed smooth vocal fold margins on both sides and complete vocal fold closure during phonation. The vibrations were bilaterally symmetrical, the delicate rolling movements of the vocal folds physiological. The quality of her voice was strong and clear and her average speaking pitch was within the normal range. The patient was thrilled by the success of her surgery and that her "original, clear voice" had returned. The voice doctor recommended an intensified two-month voice therapy program. In the next two postoperative years, there was no symptom recurrence, although she had resumed her job as a call-center agent.