When is voice surgery for vocal cord paralysis indicated?
In patients with unilateral vocal cord paralysis, the paralyzed vocal cord is immobile, making it impossible for the vocal folds to close completely during voice production. This condition is frequently associated with significant hoarseness, shortness of breath and difficulty swallowing.
If no sufficient voice improvement is noted after a period of six months (with or without voice therapy), it can be assumed
that the manifest paralysis will no longer resolve by itself.
That is the time when the option of a surgical intervention should be considered in order to achieve complete or markedly improved closure of the vocal folds during voice production. Such an intervention not only has a beneficial effect on voice quality, but also on air consumption and on any swallowing difficulties.
Vocal cord paralysis before surgery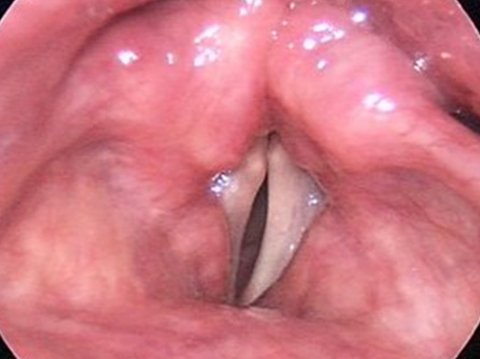 Vocal cord paralysis after surgery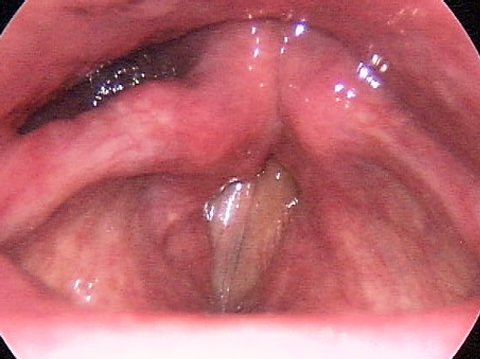 Voice recording: Vocal cord paralysis before surgery
Voice recording: Vocal cord paralysis after surgery

Dr. Wohlt's Operative Method
The operative method used by Dr. Wohlt involves augmentation of the paralyzed vocal cord with autologous fat tissue.
Vocal fold augmentation is a decades-long established procedure. Yet, over the course of time, there have been advancements in materials used for augmentation.
In earlier times, these interventions were carried out with paraffin, later with Teflon paste. Since then, the range of modern materials available has broadened.
Those deserving special mention include:
Hyaluronic acid
Calcium hydroxylapatite
Silicone compounds
What all these substances have in common is that they consist of artificial materials that can trigger allergic reactions or even be rejected by the body as a result of inflammatory processes. Moreover, some polymer plastics can exhibit unpredictable hardening phenomena after injection into the tissue.
For the reasons mentioned above, Dr. Wohlt exclusively uses autologous fat tissue for augmentation of the paralyzed vocal fold. The advantage of using autologous fat tissue is that it cannot trigger any allergic reactions as compared to artificial products because it constitutes endogenous tissue from the patient's own body.
Neither are rejection reactions to be expected for the same reason. The primary advantage, however, lies in the soft, supple texture of the fat tissue itself. By its nature, this type of tissue is especially suited for augmenting vocal folds.
As an alternative to fat augmentation, the surgical method of thyroplasty is an option. By this procedure, through an external access, the larynx is opened and a small silicone block or Gore-Tex strip is implanted in it. This pushes the paralyzed vocal fold towards the middle. However, the implant is not able to upholster the paralyzed vocal fold.
Moreover, the intervention can be accomplished within approx. 45 minutes on an outpatient basis. It is also not necessary to make an external incision, as would be necessary with thyroplasty.

How is voice surgery for vocal cord paralysis performed?
For this procedure, first, a small skin incision is made near the belly button to harvest autologous fat tissue. Afterwards, the wound is closed and the fat is processed according to specific criteria. Next, the fat is injected precisely into the paralyzed vocal fold. During this process, it is particularly important to inject the right amount of fat cells at the optimal sites. Too little or too much fat can result in less satisfactory outcomes, like significant overcorrection.
That said, it should be noted that a certain amount of overcorrection will always make sense; in other words, a little more fat must be injected than would be required for good vocal fold closure.
The reasoning behind this seeming contradiction is that the body absorbs the liquid portions of fat during the first post-interventional weeks. Therefore, a certain amount of reserve autologous fat above and beyond the minimum amount always ought to be injected into the vocal folds.
Right after surgery, the patient can expect to delight in a much more resonant voice of good quality. The results are often highly impressive. The patient does not need to maintain voice rest and may speak right away. He or she will also notice an improvement in their shortness of breath, because they are now able to dose their breathing better. Their swallowing problems will improve noticeably as well.
Vocal fold augmentation (fat augmentation) in a female patient
Vocal fold augmentation (fat augmentation) in a male patient

What happens during the postoperative phase?
As mentioned above, the patient does not need to maintain voice rest after surgery for vocal cord paralysis using fat augmentation. The only wounds that need to heal are at the injection sites, but these close up relatively fast.
After a brief period, the patient should start postoperative voice therapy aimed at relearning a good phonation pattern to counteract the bad habits acquired by compensating for the paralysis. The longer vocal fold paralysis has been manifest, the longer the voice therapy aftercare phase can be anticipated to last.
As encouragement, unilateral vocal cord paralysis can be treated using Dr. Wohlt's method of vocal fold augmentation, no matter how long the paralysis has lasted. Even patients whose vocal fold paralysis has been present for decades can benefit immensely from this method and have their former voice returned.
A voice of good quality can likewise be given back to even those patients who have suffered from vocal cord paralysis for more than 40 years. It is moving to see the joy expressed by a person who has been afflicted by voicelessness when they can hear the sound of their former voice once again after as long as up to four decades.